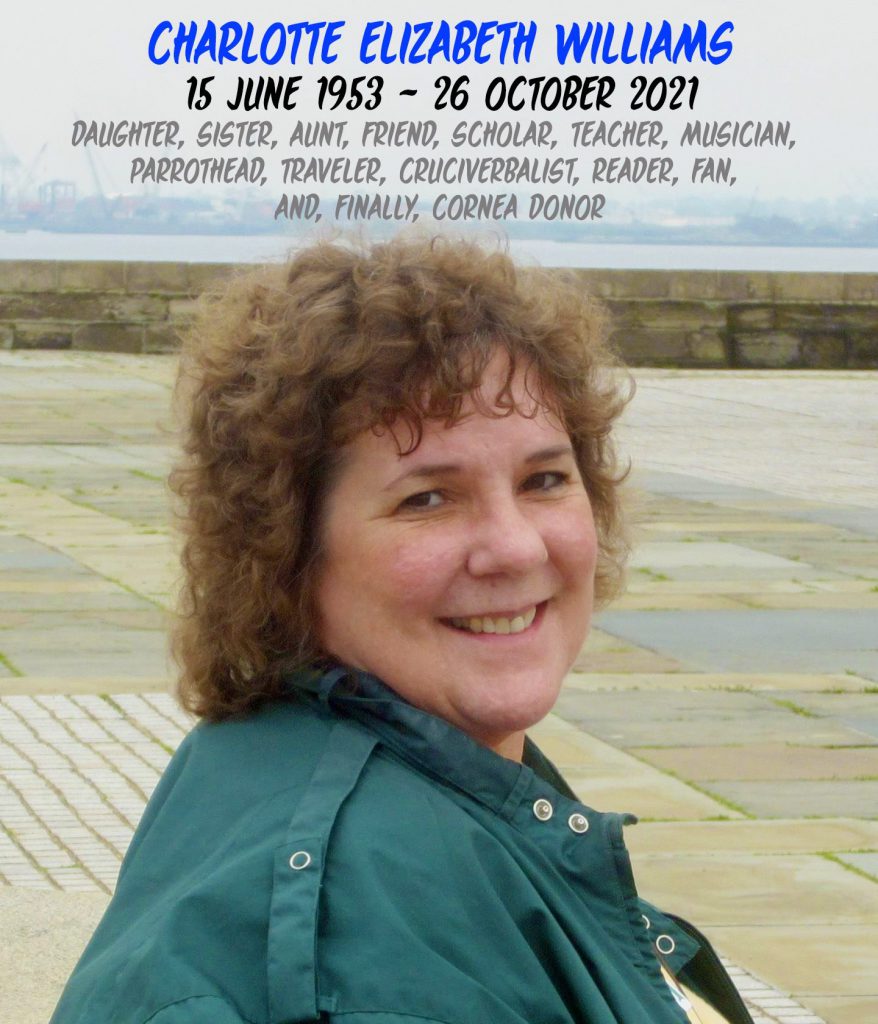 Charlotte Williams
June 15th, 1953 – October 26th, 2021
Charlotte, better known as Charlie, has been an integral part of Chattacon from it's earliest days up until recent times. Charlie was a retired teacher and enjoyed singing in the choir, reading science fiction and fantasy, traveling, and helping to organize conventions,
At Chattacon, you would most often find Charlie engulfed in conversation either in the Consuite, Operations or in the Art Show. She was a patron of artists and art. Having served virtually every department, her loss will be felt by everyone.
Please join us in raising a glass of Jack Daniels, and wish Charlie well on the next part of her journey.
Remembering Charlie
Family will receive friends from 12:00 until 2:00 PM, Saturday, October 30th, 2021 at Smith West Chapel. The family requests masks to be worn for the visitation. Family and friends will assemble for graveside service and inurnment at 3:00PM, Saturday, November 6, 2021 at Grandview Cemetery Pavilion.

Charlie's brother, Jim
Jim has been monitoring and sharing information on Charlie's Facebook Profile.
Share a memory, or a photo on Charlie's Life Tribute page. You may also purchase flowers to be displayed during her inurnment.
ALK and Lung Cancer
ALK stands for anaplastic lymphoma kinase. It was originally described in lymphoma, but most ALK-positive cancers are in non-small cell lung cancer. To learn more about ALK or to donate to research for a cure, visit the American Lung Cancer Society.
---
Charlie Loved Chattacon
We are going through years of photos and loading up our memories of Charlie. You can send photos to add to this collection to chattaconremembers [at] chattacon.org and they will be added to this page, as well as the historical archive.